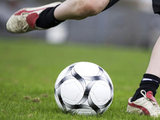 ITV is to screen England's opening game against France in Euro 2012, while the BBC has picked up the first knockout matches (if the team gets that far), it has been announced.
The two broadcasters have committed to running live coverage of all 31 Euro 2012 games next summer on TV and via their respective web and mobile platforms. They will show a total of 16 live matches each including the final, which will be broadcast by both ITV and the BBC.
ITV will kick off England's campaign with the group stage clash against France on June 11, while the BBC will show the middle group game against Sweden on June 15. ITV will close the pool stage campaign with the match against the Ukraine on June 19.
Should England make it out of the group games, the BBC will show the team's first knockout match as the corporation has the first and fourth quarter-finals, while ITV will get the second and third quarter-finals.
The BBC has secured exclusive rights to broadcast both semi-finals, while the final on July 1 will be shown simultaneously on BBC One and ITV1.
A daily highlights programme will also be aired on every match day during Euro 2012, and the BBC has the rights to provide "extensive coverage" on its radio channels.
BBC head of TV sport Philip Bernie said: "The BBC is delighted to be showing the UEFA European Football Championship, a huge football event, which, along with the London Olympics, should ensure a fantastic sporting summer for BBC viewers.
"We are very happy with the live matches on BBC One, as they give us a strong climax to the event, with both semi-finals, as well as England's quarter-final if they progress.
"We also have some very appetising group games, including England's second match, against Sweden, in peak time, Ireland's final match, against Italy, and heavyweight clashes between Holland and Germany and Germany and Portugal."
> BBC to cover Euro 2012 from Salford
UEFA events marketing director Guy-Laurent Epstein added: "UEFA is delighted to continue its relationship with the BBC and ITV, our traditional broadcast partners for the UEFA European Championships.
"We look forward to working with the UK's leading free-to-air broadcasters and are convinced that they will provide fans in the UK with an exceptional depth of coverage of the tournament across all media platforms."
The BBC will also broadcast various matches not featuring England, including Ireland's group game against Italy, and Holland versus Germany.
ITV has picked up some potentially audience pleasing ties, such as Ireland's group clashes against Spain and Croatia, along with Spain versus Italy and Portugal versus Holland.
Niall Sloane, ITV controller of Sport, said: "Major events such as the Euro 2012 Championships have huge significance for our viewers and attract some of the biggest audiences on television. I'm delighted that ITV has secured an outstanding selection of games through the tournament which includes England's opening game against France as well as a potential peak time group decider against hosts Ukraine.
"ITV1 will also be the home of some terrific clashes between the top teams in Europe including Spain vs Ireland, Spain vs Italy, Portugal vs Holland and Ireland vs Croatia."