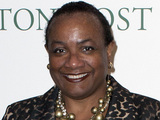 Diane Abbott, the shadow health minister, is at the centre of a
Twitter
row over claims she made a racist comment.
The Conservative MP Nadhim Zahawi called for Abbott to apologise or resign after she posted on the microblogging site that "white people" liked to play "divide and rule".
The message was posted as part of a discussion with a freelance journalist about whether people should talk in general terms about the black community in the wake of the Stephen Lawrence murder case.
Responding to criticism of the term "black community leaders", Abbott tweeted: ''White people love playing 'divide & rule'. We should not play their game."
She was addressing journalist Bim Adewunmi, but Abbott did not use the Twitter direct message facility and so the comments were made public.
The Labour MP said today that her remark had been misinterpreted. She
posted to her 26,000 Twitter followers
: "Tweet taken out of context. Refers to nature of 19th century European colonialism. Bit much to get into 140 characters."
Speaking later to
Sky News
, Abbott - the first black woman to be elected as an MP - repeated: "I think the tweet was taken out of context and some people have interpreted it maliciously."
But Zahawi called on Labour leader Ed Miliband to sack Abbott for "inciting hatred against white people".
He told
BBC Radio 5 Live
: "This is racism. If this was a white member of Parliament saying that all black people want to do bad things to us he would have resigned within the hour or be sacked.
"For a shadow minister to hold these sort of views is intolerable, it is wrong, she needs to go."
However, fellow Tory MP Robert Halfon disagreed, tweeting: "The right should know better than to get all PC re @HackneyAbbott - disagree strongly, but let voters decide. Freedom of speech & all that."
The Labour Party has not commented so far on the row, but ex-Labour MP George Galloway has dismissed the criticism of Abbott.
"Diane Abbott has been my friend for 25 years; only the obtuse would think her a 'racist'," he
posted on Twitter
.
The controversy comes at a time of heightened sensitivity over race in Britain, particularly following a number of high-profile scandals in the world of football, including an ongoing case involving the England captain John Terry.
Last month,
Match of the Day
pundit
Alan Hansen
was
forced to apologise following a Twitter storm over his describing of black footballers as "coloured" on the BBC One show
.