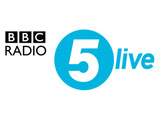 BBC Radio 5 Live has been ordered to cover more minority sports and tighten up its news coverage as part of a service review by the BBC Trust.
The station was praised for the "breadth, depth, wit and intelligence" of its news output, and was particularly valued by listeners as "a reliable source for breaking news".
However, the Trust has outlined "clearer commitments" on the station's news coverage, following criticism from rival stations such as TalkSport.
Radio 5 Live was reminded that its "core priority" was to cover news, and the Trust said that it "would like to see fewer 'non-news' features in news programmes, particularly when there are important news topics to cover".
The Trust warned the station that "discussion and other feature items on the station should be clearly driven by news or a topical issue".
TalkSport had previously claimed that 5 Live was failing in its serve licence remit to devote 75% of its output to news. The commercial rival had also criticised the station for not doing enough to cover less mainstream sports.
While the Trust said that the range of sports on 5 Live was "broadly right", it called on the station and its sister network, 5 Live Sports Extra, to build on their "commitment to non-mainstream or minority sports".
BBC Trustee Alison Hastings, who led the review, said: "In a year that has seen so many major news stories hit the headlines, it's great to see that 5 live's approach to news coverage and breaking news really stands out for listeners.
"We've set out ways in which we think 5 live could build on this to ensure that all of its journalism continues to meet the high standards that audiences expect.
"The station also has an unmatched reputation for sports coverage among licence fee payers. Given the BBC's unique position we think the station could do more to cover the less mainstream sports that other stations can't, and we look to the Executive to decide how best to achieve this."
TalkSport has been a committed critic of 5 Live, claiming at one point that as little as 50% of the station's output could be classed as "serious news".
The
UTV Media
-owned station accused 5 Live of classing entertainment-focused content as news, including celebrity interviews and listener-generated features.
The Trust
rejected a TalkSport complaint against 5 Live in April last year
, but said that it raised "some significant and valid questions" ahead of the service review.
However, the Trust has now found that 5 Live's sports coverage is viewed as "unrivaled" on radio by listeners, while its balance between heavier and lighter news stories is "highly valued by audiences".
The Trust said that the "clearer commitments" for news on 5 Live sits "alongside the requirement that three quarters of 5 live's output should be news and current affairs".
In response to the report, UTV Media called on 5 Live's management to act on the Trust's findings around news output and minority sport.
"We welcome the BBC Trust's findings, and in particular its decisions to strengthen 5 Live's commitment to 75% news, and to ensure coverage of minority sports," said Scott Taunton, the managing director of UTV Media (GB).
"Whilst the Trust has set out a number of important actions, we will need to wait and see whether this has a material impact on 5 Live's performance and distinctiveness. We will therefore be watching the response of BBC management closely."
He added: "The BBC Trust's report also sets out some surprising figures for programme expenditure at 5 Live. This includes the revelation that 5 Live spends more money on sports programming than on news, despite news accounting for over three times more airtime.
"We welcome the Trust's recommendation that expenditure should be rebalanced towards news and restate our offer to participate in an appropriate benchmarking study to help BBC management identify efficiency opportunities."
In May last year, Radio 5 Live presenter
Richard Bacon
hit back at TalkSport's criticism of the station's output
, suggesting that it was a "weak and insecure" bid to challenge its rival network.