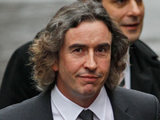 Steve Coogan is expected to agree a phone hacking settlement today ahead of his high-profile case against the
News of the World
next week.
The actor and comedian, who has been a vocal campaigner against the newspapers in the hacking affair, is to appear in court this morning at a scheduled pre-trial hearing.
Sources say that he will announce that a settlement has been reached with the Rupert Murdoch-owned
News International
, after various other high-profile cases were recently settled before going to trial, reports
The Guardian
.
Coogan's case is among 10 ongoing claims that were due to go to trial on Monday, in a process that was intended to provide a benchmark for the level of compensation to be paid in any future cases.
The other cases include the singer Charlotte Church and her parents, the MP Simon Hughes, the jockey Kieren Fallon and football agent Sky Andrews.
Following last-minute negotiations, it is expected that various other cases in the 10, alongside Coogan, are to announce that they have settled.
Coogan, along with the actor
Hugh Grant
, has been one of the most outspoken claimants in the phone hacking legal fight, and has previously accused News International of acting like a "protection racket", outside of the law or regulation.
> Steve Coogan: 'Newspaper industry is like the mafia'
Last month, News Group Newspapers, a subsidiary of News International and publisher of the now defunct
News of the World
,
paid out at least £640,000 in settlements with 37 celebrities, including Ashley Cole, Jude Law, Tony Blair and Alastair Campbell
.
News International also extended its "sincerest apologies" in court for the distress and damage caused by the phone hacking.
However, the judge noted that he had seen evidence which raised "compelling questions" over whether News Group Newspapers "concealed, told lies, actively tried to get off scot free".
Yesterday, the Metropolitan Police
accepted that it had acted unlawfully by failing to warn people that they had been the victims of possible phone hacking by the News of the World
, after a damning judicial review of their handling of the affair.