8
Media News
Heather Mills: 'I did not allow Piers Morgan to access my voicemail'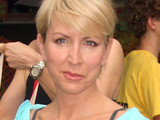 Heather Mills
has denied ever authorising former
Mirror
editor Piers Morgan to access or listen to her voicemails.
The ex-wife of Sir Paul McCartney appeared today at the Leveson inquiry into press ethics and standards to discuss a voicemail left for her by the former Beatle while she was on holiday in India.
After the couple had a row, Sir Paul left her 25 voicemail messages, including one featuring a "ditty", which is thought to refer to him singing the hit song 'We Can Work It Out' into the answerphone.
Mills repeated
claims she made last August that a journalist had contacted her to say that he knew about the couple's problems, and also mentioned the song
.
Morgan, who now works for US cable channel CNN, had
told the inquiry that he had listened to the voicemail messages left by Sir Paul
, but refused to say when or where over fears that it would compromise his "source".
This also referred to a previous statement made by Morgan in a 2006 article in the
Daily Mail
, in which he admitted to hearing a recorded message left for Mills by Sir Paul, claiming: "It was heartbreaking.
"The couple had clearly had a tiff, Heather had fled to India and Paul was pleading with her to come back. He sounded lonely, miserable and desperate, and even sang 'We Can Work It Out' into the answerphone."
Asked whether she had ever authorised Morgan or anyone else to access or listen to her voicemails, Mills replied "never", then repeated: "Never ever."
She added: "I couldn't quite believe that he would even try to insinuate, a man that has written nothing but awful things about me for years, would relish in telling the court if I had played a voicemail message to him."
Mills said that she had confronted the reporter who called her about the voicemail, who is not thought to have come from the
The Mirror
.
She said she told the journalist: ''I promise you if you report this story, even though it's true, you've obtained this information illegally and I will do something about it.''
Mills said that the tone of press coverage about her was favourable after the accident in 1993 when she lost her leg, but she noted that this changed after she met Sir Paul.
"As soon as I met him it became 'one-legged bitch' and 'cow' and every awful word you can think of," she said.
Mills also denied Morgan's claim that he had initially introduced her to Sir Paul at an awards event.
A video was shown to the Royal Court of Justice inquiry of Mills being pursued by photographers and journalists.
She criticised the "postage stamp-sized apologies" which newspapers were forced to publish following inaccurate stories about her, and called for front page apologies to become standard practice otherwise the "public believe the lies".
Earlier, former
News of the World
news editor Ian Edmondson told the inquiry that there was a "culture of bullying" at the now defunct Sunday tabloid.
He also said that it was a "sham" that private investigator Derek Webb had been rebranded as a journalist and given a National Union of Journalists (NUJ) press card, but noted that Webb's surveillance experience had been valuable to the paper.
Also today, Darryn Lyons, who set up the Big Pictures agencies and recently appeared on Celebrity Big Brother, said that he had no reason to believe photographers he uses had ever acted unethically.
He also accused celebrities and their public relations representatives of using the paparazzi as a "publicity tool" to "raise their profile".