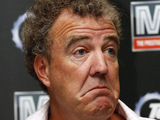 Ofcom has today dismissed a complaint from a trade union about
Jeremy Clarkson
's controversial appearance on
The One Show
, in which he said that striking public sector workers "should be shot".
UNISON wrote to Ofcom chief executive Ed Richards to complain about the "extreme and wholly unjustified" statements made by Clarkson last November.
On the programme, the
Top Gear
star
said that public sector workers taking industrial action over their "gilt-edged pensions" should be executed "in front of their families"
.
However, Richards wrote back to the union to say that the comments were "not in breach" of the broadcasting code because they were justified by the context on the BBC One programme.
He acknowledged that the statements were "potentially offensive" to members of the union working in public service, but noted that they were "justified" by the context of
The One Show
, which is a "light" programme and not intended as "serious daily news".
Richards said that presenter Alex Jones used "light-hearted irony" to introduce Clarkson, by saying he was a "guest with balanced uncontroversial opinions who makes great efforts not to offend".
The Ofcom boss said that "editorial content and the editorial nature of the programme as a whole would have prepared viewers for the type of comments Jeremy Clarkson would be likely to make".
"In Ofcom's view, viewers' expectations would also have been influenced by Jeremy Clarkson's well-established public persona," said Richards.
"His often controversial (and, to some, offensive) views are widely publicised in both print and on television."
He added: "Further, we considered that it would have been clear to most viewers that his comments were not an expression of serious held beliefs or views that should be literally interpreted."
Richards also agreed with Clarkson's claim that his comments were "aimed to a considerable extent at the BBC", particularly at the corporation's need for "balance" in its coverage of major news stories.
Despite acknowledging that Clarkson's comments were likely to offend anyone not familiar with his personality, Richards said that Alex Jones had made a "wide-ranging apology" at the end of the show, and the BBC had also apologised after the controversy broke.
There had been claims that BBC bosses were made aware of Clarkson's intended comments before he made them, but Richards said that the production team had actually told him that it would "not be appropriate" to make the jokes, but he made them any way. This led the team to tell Jones to make the apology at the end of the show.
The BBC has
received more than 31,000 complaints about Clarkson's appearance on The One Show
, but it will not take any further action on the matter after apologising at the time.
UNISON has also called on the corporation to sack Clarkson for the comments, but
BBC director general Mark Thompson has already ruled that out
.