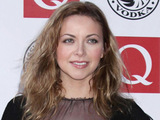 Charlotte Church
is reportedly close to agreeing a settlement over her phone hacking case against the
News of the World
, meaning Rupert Murdoch's media group would avoid the further scandal of the trial going to the High Court.
Church and her family were the only party out of around 60 hacking cases unable to
reach a settlement deal with News Group Newspapers
, the parent company of the now defunct
News of the World
.
This meant that their case was due to go before the High Court next Monday, just a day after Murdoch's firm is
due to re-enter the Sunday tabloid market with a seventh day edition of The Sun
.
However, the
Financial Times
reports that the Church family are now in the final stages of settling their claim.
Citing two people "close to the case", the paper said that the three plaintiffs - Church and her mother Marie and stepfather James - are close to agreeing a settlement worth between £380,000 and £500,000 in damages and costs. The damages element is thought to be around £180,000.
Church, 26, claims that the phone hacking, conducted by private detective Glenn Mulcaire on behalf of the
News of the World
, led to the publication of stories that caused immense harm and distress to her family and personal life.
Her case was the only one left without a settlement, but it now appears that
News Group Newspapers
has managed to prevent the case from going to a high-profile court date.
This would effectively bring to an end four years of civil litigation for NGN, dating back to the secret settlement agreed with Professional Footballers' Association boss Gordon Taylor.
The phone hacking scandal, which hit the headlines last year after revelations that the
News of the World
targeted the phone of murdered school girl Milly Dowler in 2002, has left parent company News International's reputation in tatters.
There are thought to be at least 50 other hacking cases in the pipeline, but following the wide-ranging admissions of culpability by NGN, it is expected that the only legal issue remaining is how much compensation should be paid in each case.
A person involved in the legal process told the
Financial Times
: "They have consistently paid over the odds to avoid embarrassment in court evidence and it looks like that tactic has succeeded."
News International declined to comment on the report.
> Charlotte Church 'offered coverage deal to sing at Rupert Murdoch wedding'