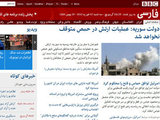 BBC World Service has announced that its international news service in Iran has reported strong audience gains, despite a continued campaign of censorship and intimidation by Iranian authorities.
According to independent research, the BBC's Iranian service (including TV and radio) has increased its overall weekly audience by 85%, from 3.9m to 7.2m.
BBC Persian TV has grown its weekly audience by an impressive 94%, from 3.1m in 2009 to 6m today. This means that more than one in ten Iranians now watch BBC Persian TV each week, rising to more than one in four among those with satellite TV (28%).
The BBC said that the figures would be higher if it wasn't for "persistent and repeated blocking" of BBC Persian TV. The station returned to the 'Hotbird' satellite of Eutelsat Communications last week following alleged "jamming" by the Iranian authorities.
It is not clear how many people visit the BBC Persian website from within Iran, where the internet is heavily censored and traffic figures are hard to measure.
Earlier this month, the BBC director general
Mark Thompson
published a blog
accusing the Iranian authorities of harassment and intimidation of BBC journalists and their families
, including arrests, detentions and false accusations.
> BBC Persian journalists detained in Iran
Discussing the audience figures, which were released on the day the BBC World Service turned 80, the BBC's director of global news Peter Horrocks said: "These figures are a tremendous tribute to the courage and dedication of BBC Persian journalists in the face of appalling bullying and intimidation by the Iranian authorities.
"Working for the BBC World Service can be a very hard calling. But our journalists do so in the knowledge that their reporting is trusted, respected and valued by audiences in Iran and by millions around the world."
Alongside the BBC Persian data, the BBC has issued its first ever audience survey for services in Somaliland and Puntland, showing that the BBC has its highest reach in the territories of any international market, at more than 60% of adults for its radio services.
The BBC has set the target of reaching 250 million people each week across all its international news services - the current reach stands at 225 million - to retain its position as the world's most trusted broadcaster, despite
significant budget cuts last year
.
The BBC's overall Arabic TV audience has increased by 80% to 24.5m people over the past year, after audiences used the corporation's services for "accurate and unvarnished" news during the 'Arab Uprising' in 2011.
"The BBC will continue to represent the voice of free media where there is no other access to fair and authoritative news - be it because of suppression and persecution of journalists, a growth in state sponsored media or new technologies disrupting investment in international journalism," said Horrocks.
"Despite the dramatic growth in media, access to independent and high-quality news remains scarce. In many parts of the world, impartial and trusted news is almost becoming an endangered species.
"A tight financial climate does not mean we need to shrink our ambition - we want to reach more people, deliver greater impact and remain the most trusted broadcaster in world."