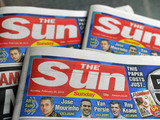 A 32-year-old
The Sun
reporter has been arrested by police as part of the Operation Elveden probe into allegations of corrupt payments to police and public servants.
It is understood that the newspaper's defence correspondent Virginia Wheeler was arrested today by appointment under the Prevention of Corruption Act, and is currently in custody at a south London police station.
This marks the 23rd arrest as part of Operation Elveden, and Wheeler is the 11th employee of
Rupert Murdoch
's
The Sun
to be arrested.
Police recently widened the remit of Operation Elveden to cover suspected corrupt payments by journalists to public officials other than police, after a member of the armed forces and a Ministry of Defence employee were also arrested.
Overseen by the IPCC, the operation is running alongside the Operation Weeting probe into phone hacking at the now defunct
News of the World
, and the Operation Tuleta investigation into computer hacking.
Last month, Rupert Murdoch flew to the UK to deal with rumblings of a mutiny amongst
The Sun
staff after a committee set up to deal with the phone hacking scandal handed over information to police that led to the arrests of various senior journalists.
These included
The Sun
's picture editor John Edwards, chief reporter John Kay, chief foreign correspondent Nick Parker, reporter John Sturgis and associate editor Geoff Webster.
Trevor Kavanagh,
The Sun
's associate editor, subsequently claimed that the paper's publisher -
News International
- was the subject of a "witch-hunt" and the journalists were being treated like a "criminal gang".
Murdoch eased tensions in the newsroom by
launching a new Sunday edition of The Sun last weekend
, taking the tabloid to a full seven-day paper.
However, his son James Murdoch yesterday
resigned as executive chairman of News International
, after being roundly criticised for his handling of the hacking affair.