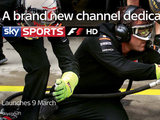 Sky
will today debut Sky Sports F1, the satellite broadcaster's first channel dedicated to one sport that follows a controversial TV rights deal for Formula One.
Backed by a multi-million advertising campaign, Sky Sports F1 will start broadcasting this evening in standard and high definition at position 408 on Sky's electronic programme guide.
The channel is also available in just standard definition on Virgin Media at channel 516 and Small World Cable - a cable TV provider serving more than 40,000 homes in north west England - on channel 408. Virgin Media will offer Red Button coverage of Sky Sports F1 as part of a
recent interactive deal
.
Sky Sports F1 will show every single race, practice and qualifying session live from Grand Prix each season from 2012 to 2018, without the interruption of adverts. None of the 2012 races will be shown on Sky 3D, as Formula One Management currently does not offer a 3D feed.
The BBC has rights to show half the races live on free-to-air television, but this will not begin until two Grand Prix into the season, in China on April 15.
The corporation will offer extended highlights of all races it does not show, while BBC Radio 5 Live will continue to broadcast live commentary of every Grand Prix session.
> BBC announces Formula One coverage plans for 2012
The Sky team includes various ex-BBC talent, including Martin Brundle as expert analyst and
David Croft
as commentator, while former F1 drivers Damon Hill and Anthony Davidson will also be expert analysts. Ted Kravitz and Natalie Pinkham will act as reporters, and the coverage will be presented by Steve Rider and Georgie Thompson.
Sky's F1 channel will premiere with
The F1 Show
at 8pm tonight, featuring Brundle and Damon Hill joining Simon Lazenby to preview the 2012 season.
The programme will be followed by an hour of
Formula One Legends
, a programme featuring Rider talking to past world champions, starting with Emerson Fittipaldi and Sir Jackie Stewart.
Sky has also created a fully interactive multi-screen Red Button service around Formula One coverage, and totally
revamped its iPad app to offer live streaming of the channel
.
Creating a channel completely dedicated to one sport is a brave move from Sky, particularly when it is not Premier League football, the satellite broadcaster's most valuable sports rights.
To fill the channel's schedule, Sky has also secured the rights to broadcast a number of support race series live, including Formula 1 feeder series GP2 and the single-seater motor racing competition below, GP3.
Sky Sports will take the World Feed commentary from GP2 and GP3 provided by Will Buxton and typically F1 reserve drivers. GP2 gets under way on March 23 in Malaysia, while GP3 does not begin until May 11 in Barcelona.
Sky Sports F1 will be made available at no extra charge to all Sky TV customers who take both Sky Sports 1 and Sky Sports 2, or the high definition pack of channels. The same is true on cable TV.
But viewers on Freeview have
expressed their anger at the fact that half of each season's races will only be able available live on pay-TV
, meaning they must pay around £30 each month to see a sport that they could previously see for free.
Sky Sports F1 is also available for streaming live over the internet via the Sky Go multiplatform service, but this is largely designed to be a value-add to a Sky TV subscription. It is possible to get Sky Go without taking Sky TV, but the cost of this actually makes it a more expensive option.
> Sky's David Croft: 'F1 rights deal is good for fans'
> Formula One on Sky has raised BBC's game, says Jake Humphrey