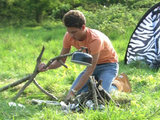 All3Media, the UK's largest independent production group, is to launch a new video on-demand service that will bypass the likes of
Netflix
and LoveFilm, and go straight to the consumers.
The company, which owns the makers of shows such as
The Only Way Is Essex
and
Midsomer Murders
, has agreed deals with Samsung and LG to launch a dedicated app on their internet-connected television platforms.
Launching in the UK this week before expanding to the US next month, the branded 'A3M' TV app will enable viewers to buy and watch shows, initially on a pay-per-view basis.
All3Media commercial director Andy Taylor said that the app's launch is about testing pricing approaches and gauging the appetite for the firm's shows on-demand.
Various pricing models will be tried out, including offers of individual episodes for between 49p and 99p, as well as free promotional weekends to drum up interest. Initially, there will be around 230 hours of content available in the UK.
A monthly subscription could be offered in the future, but Taylor stressed that the firm was still working with existing subscription services, such as Netflix and LoveFilm.
"Our primary business will continue to be licensing our programmes to international broadcasters and video-on-demand partners, such as Netflix, Hulu and Lovefilm," said the former Channel 4 digital executive.
"The new All3Media app, however, will allow us to experiment with different payment models, to continue to get closer to our viewers and to experiment offering our content in a range of territories.
"It is estimated that there will be 500 million connected TVs in the world in 2015, so now seems like a good time to experiment and learn about consumer behaviour."
All3Media, the owner of around 20 production companies, put itself up for sale last year, but
scrapped the plans after buyers were put off by the around £750m price tag
.
Meanwhile, the BBC announced plans this month to create a new iTunes-style download-to-own store, dubbed Project Barcelona, that will attempt to better distribute the corporation's vast archive of content.
The corporation later
claimed that licence fee payers are "comfortable" with the prospect of paying for digital copies of content to keep
, and denied that the service is a "second licence fee by stealth".