The BBC has announced that the first edition of
BBC Breakfast
from its new home in Salford Quays will air on April 10.
The programme, broadcast daily from 6am on BBC One and the News Channel, is among a series of major shows shifting to the new BBC North base at MediaCityUK.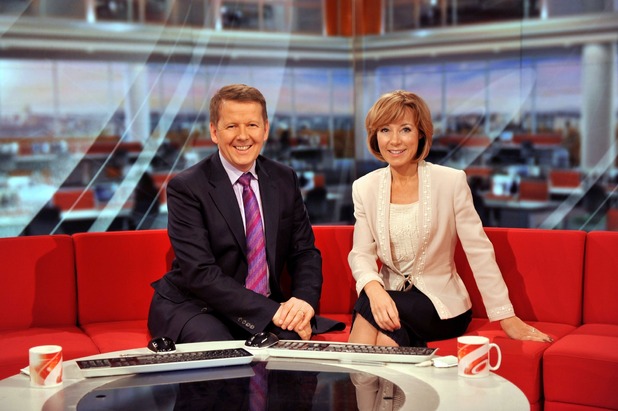 Sian Williams and sports reporter Chris Hollins have opted against making the move North, but the corporation has persuaded much of the existing
Breakfast
team to relocate.
This includes
Bill Turnbull
, Susanna Reid, Louise Minchin and Charlie Stayt forming the main 'family of presenters'.
Business reporter Stephanie McGovern and sports presenters Sally Nugent and Mike Bushell will continue in their current roles in Salford, and Carol Kirkwood will present the weather reports from London and other UK locations.
BBC Breakfast
, launched in October 2000 and now watched by around 12m viewers every week, will broadcast three hours of live news, sport and entertainment every day from Salford, starting on Tuesday, April 10 at 6am.
Discussing the move North, Turnbull said: "I'm excited to be moving to a new studio, with the very best in technology in an innovative, light-filled new building.
"I've visited MediaCity several times already and its open-plan design and space make it much easier for people to mingle and exchange ideas. I'm looking forward to being a part of that."
He continued: "People trust us and, just as importantly, trust the BBC. They let us into their homes at what is a sensitive time of day. We are part of their (the viewers') routine, and we are conscious of that all the time."
Turnbull said that his favourite
Breakfast
interview was US actor Will Smith, and he hopes more high-profile guests will make the trip to Salford to appear on the show.
"It has to be Will Smith. He gave us 15 minutes of his time, which is unheard of in Hollywood terms, and he was very warm, not only to us, but to everyone working on the set. He took time to say hello, which was appreciated by everyone there," he said.
"But it's not just about the stars. Sometimes the interviews that resonate most with viewers are the ones which focus on people with interesting personal stories, people who've achieved something against the odds or suffered a loss of some kind. It's these frank and honest stories that have something to teach all of us.
"I'm looking forward to welcoming guests to Salford - what they can achieve here and being able to do several outlets in one visit will make the trip of huge value to them."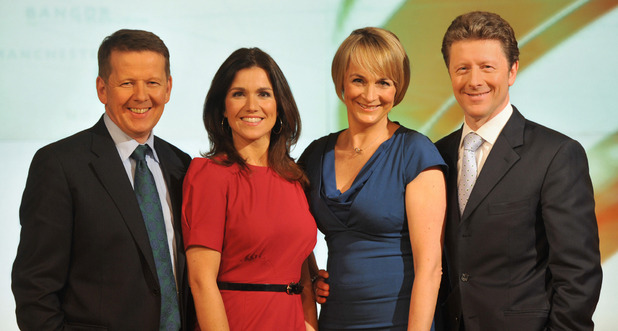 Fellow
Breakfast
presenter Louise Minchin said that she is "honoured" to be part of the presenting team, and her family is "very excited" about moving to the North-West.
"I am absolutely delighted and honoured to become a full-time member of the
Breakfast
presenting team in the programme's new home, and am really looking forward to continuing to work with Bill, Charlie and Susanna.
"We have an immensely loyal audience who are a very important part of the
Breakfast
family and l hope they will continue to enjoy the programme from its new base."
She added: "As for my own family, my husband and both my daughters are very excited about moving to the North-West and to living somewhere new.
"I am also really looking forward to be presenting again on Radio 5 live. I spent many happy days there earlier in my career and it will be great to be working with friends and colleagues once again in MediaCityUK. I will also continue to present
Real Rescues
and
Missing Live
on BBC One."
BBC Breakfast
editor Alison Ford said: "It's a tremendously exciting time for all of us working on
Breakfast
in our new home in Salford. I'm really proud of how successful
Breakfast
is and everyone on the team will be doing all they can to make sure that continues in the future.
"I'm thrilled that Bill, Susanna, Louise and Charlie will be on our sofa to bring our audience the big news stories of the morning, the talking points of the day and the occasional smile.
"Like all new things, making
Breakfast
in Salford is going to be a challenge, but it's one I know the whole team is really looking forward to."
Helen Boaden, the director of the BBC News Group and a candidate to
take over from Mark Thompson as BBC director general
, said that the relocation of
BBC Breakfast
"completes our current moves of news output to Salford".
She added: "The move means we now have 400 journalists based in Salford reporting locally, regionally and nationally, helping us find new emerging stars and better reflect our audiences right across the country.
"From local radio to national current affairs, this will be a lively creative hub for journalism bringing extra depth and richness to our reporting."
> BBC's Caroline Thomson: Murdoch criticism a 'bit rich' now
> BBC Television Centre hit by rat infestation