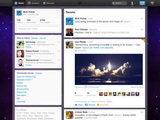 Former New Zealand cricket captain Chris Cairns has been awarded £90,000 in damages as part of the first ever libel case involving comments made on
Twitter
.
The 41-year-old took the action against Indian Premier League (IPL) boss Lalit Modi, who had accused him of match-fixing on Twitter in January 2010.
Cairns claimed that the "unequivocal allegation" had made "dust" of his career achievements, including 200 wickets and 3,000 runs in 62 tests.
Justice Bean, hearing the case without a jury today at the high court, said that Modi had "singularly failed" to provide any evidence to back up his match-fixing claims against Cairns.
The judge said that he had even failed to demonstrate that there was grounds to suspect that the New Zealander was a cheat.
He further noted that the claim made against Cairns was "as serious an allegation as anyone could make against a professional sportsman".
According to
Sky News
, the judge said: "It is obvious that an allegation that a professional cricketer is a match-fixer goes to the core attributes of his personality and, if true, entirely destroys his reputation for integrity.
"The allegation is not as serious as one of involvement in terrorism or sexual offences (to take two examples from recent cases). But it is otherwise as serious an allegation as anyone could make against a professional sportsman."
The judge also noted that Modi's tweet about Cairns was picked up ESPN's popular CricInfo website. After Cairns complained about this, CricInfo withdrew the article, apologised and paid damages.
However, Modi has refused to apologise and always maintained the his allegations were true. He said that the claims related to Cairns's second and third stint as captain of the Chandigarh Lions in the Indian Cricket League (ICL), the predecessor to the IPL.
In his evidence to the court, Cairns said: "The defendant's allegations have also had a profound effect on my personal and private life. It put a strain on my marriage. It hurts that my wife may think that I am not the man she thought I was.
"It hurts me too that friends, many of whom are former cricketing foes, will question my integrity as a man and a sportsman and that all I achieved in the great game of cricket is dust."