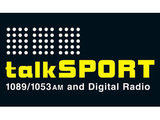 TalkSport is to broadcast a new regular feature on video games as part of an initiative by owner UTV Media to woo games publishers, it has been announced.
The station, which reaches around 3.2m listeners every week, said that the "new weekly gaming feature" will include the latest releases and celebrity interviews.
Parent company UTV Media has teamed up with Future publishing, owner of games publications such as
CVG
,
Edge
and
PC Gamer
, to populate TalkSport's 'on-air features'. There will also be games reviews featured in
Sport
magazine.
TalkSport and
Sport
magazine sales director Kurt Edwards said that games are a good fit for TalkSport's audience.
"69% of listeners said they play games regularly and 79% of which said they had played in the last week," he told
MCV
.
"So TalkSport alone has a gaming audience of nearly 3m adults every month and yet we seldom mention gaming across our platforms.
"That's why TalkSport will be introducing a new weekly gaming feature on air that will discuss the latest releases, which celebrities are playing and what listeners can expect from the latest innovations."
Video games recently overtook film as the biggest entertainment industry in the UK, but there remains a paucity of coverage in the 'mainstream' media, such as television and radio stations.
UTV has clearly seen a gap in the market and hopes that TalkSport can help fill it.
> Budget boost for British animation, TV and games studios
> The big issue: Can games change the world?
Combined, Future's gaming portfolio and TalkSport reach almost eight million adults every month, including a significant proportion of young men.
TalkSport also sees a strong "correlation" between games and sport, demonstrated in cross-over titles such as football game
FIFA 12
.
Alongside editorial content, the partnership with Future will enable TalkSport to target UK games publishers with bespoke advertising solutions across multiple platforms.
TalkSport commercial director Kurt Edwards said in a statement: "Future is the expert in gaming and delivers high volume gamers in scale.
"And with our mass market offering across a number of platforms, we believe together we can offer compelling solutions to advertisers."
Future's advertising sales director Rob Elms added: "Combining our expertise in the entertainment industry with TalkSport's extensive reach amongst young men, allows us to offer cross-platform, integrated solutions with broadcast scale and depth of engagement."