0
Media News
Three more arrests in police payments probe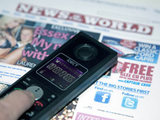 Police have arrested three more people today in connection with an investigation into illegal payments made to public officials by journalists, as the first convictions in the phone hacking probe come close.
According to reports, a former member of the armed forces was among those arrested by officers from Scotland Yard's Operation Elveden, the probe into illegal bribes paid to police officers and public officials.
Elveden detectives are also understood to have searched two homes in Kent and Lancashire.
Police said that Rupert Murdoch's News Corporation, the parent group of UK newspaper publisher
News International
, provided information which led to the arrests.
A total of 26 people have been arrested since last July as part of the inquiry.
The new arrests come as the first criminal charges against executives, journalists and other people linked to phone hacking and corrupt payments moved one step closer.
Yesterday, it emerged that the cases involving four journalists and seven others have been referred to the Crown Prosecution Service.
The director of public prosecutions, Kier Starmer, is now considering whether to bring charges against the suspects.
He said that it was likely that more referrals would be made as 43 individuals remain on police bail following a slew of arrests over the past year.
No individuals were identified as potentially facing charges, although
The Guardian
notes that one file appears to match the details revealed following the arrest of
Rebekah Brooks
, the former editor of the
News of the World
and chief executive of News international.
She was
arrested earlier in the year for the second time on suspicion of conspiracy to pervert the course of justice
.