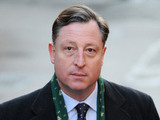 Former
News of the World
journalist
Neville Thurlbeck
will not be prosecuted over the suspected intimidation of a witness, it has been confirmed.
The 50-year-old was arrested in March over claims relating to a blog post about News Corporation's probe into phone hacking at the paper.
The Crown Prosecution Service has said that Thurlbeck will not face action over the alleged harassment.
But he remains on bail in relation to allegations of voicemail interception following his arrest under the Operation Weeting police investigation into phone hacking at newspapers.
Thurlbeck was separately arrested in March after he published a blog post on Nevillethurlbeck.com revealing the home address of a member of News Corp's Management and Standards Committee, which was set up to probe the hacking affair.
Alison Levitt QC, top legal adviser to the director of public prosecutions, confirmed that no action would be taken over Thurlbeck's blog.
"The CPS has received a request from the officers investigating Operation Weeting for charging advice in relation to Neville Thurlbeck, suspected of witness intimidation and harassment," she said in
a statement
.
"This relates to a blog posted by Mr Thurlbeck on March 7, 2012 in which he gave the home address of a member of News International's Management Standards Committee.
"Having applied the full test set out in the Code for Crown Prosecutors, the CPS has concluded that no prosecution should take place. Given that the journalist in question remains on bail for further offences, we do not intend to give any further information at this point.
"Mr Thurlbeck remains on police bail on suspicion of offences under the Regulation of Investigatory Powers Act 2000."
Thurlbeck was the chief reporter of the
News of the World
, which was shut down last July at the height of the phone hacking scandal.
He was behind a notorious front page splash that alleged Max Mosley had a "sick Nazi themed orgy". The ex-Formula 1 boss later secured damages in the High Court over the story.
The reporter is also known for the "For Neville" email, which is said to contain illegally obtained transcripts of voicemails belonging to football union boss Gordon Taylor, indicating that hacking at the Sunday tabloid went beyond just jailed reporter Clive Goodman.
Following today's statement by the CPS, Thurlbeck told
PA
: "I am pleased that the CPS has advised the police that no further action should be taken with regard to an allegation concerning one of my blog postings on nevillethurlbeck.com.
"I would like to thank my family, friends and colleagues in the industry for their unswerving loyalty, support and continued belief in me.
"And my lawyer Henri Brandman for his wise counsel. I am fortunate to retain the services of one of London's finest lawyers."
> Rupert Murdoch admits 'cover up' at News of the World
> James Murdoch 'stands by' hacking testimony at Leveson grilling