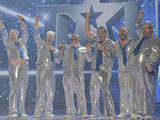 The future of commercial public service television in the UK is currently being reviewed, including whether the licences held by broadcasters such as ITV and Channel 5 should be put up for auction.
The media regulator has published advice on future options for the commercial public service broadcaster (PSB) licences - the Channel 3 (ITV, STV and UTV) and Channel 5 licences - when they expire in 2014.
Completing its statutory duty, Ofcom's report considers whether the existing licence holders "will be able to contribute, at a commercially sustainable cost, to public service broadcasting in the 10 years from 2015".
The broadcasters currently provide various public service programmes, including news and current affairs, in return for prominence on the electronic programme guides and valuable spectrum on digital terrestrial television (
Freeview
).
Ofcom has outlined three options going forward for the licences, starting with a straight renewal of the licences for a new ten-year period - the most likely outcome.
The watchdog said that "in broad terms" the existing public service obligations set for broadcasters "could be sustainable in the next licence period".
Analysis shows that the Channel 3 and Channel 5 licensees "could continue to make a sufficient contribution to public service broadcasting beyond 2015".
But Ofcom notes that benefits could be drawn from establishing a separate, standalone licence for Channel 3 in Wales, mirroring the ones in Scotland (STV) and Northern Ireland (UTV).
"We also suggest that changes to the Channel 3 service received by viewers in the south of Scotland may be appropriate to ensure the provision of Scottish news in that area," said Ofcom.
However, Ofcom has also proposed auctioning off the commercial PSB licences in order to open up the competitive process and see if other broadcasters could do commercial public service television any better.
"[We] may also test whether potential bidders - including the current licensees - could consider fresh approaches to public service broadcasting," said Ofcom.
The final option involves extending the current licences for a shorter period to permit a full review of public service broadcasting as part of government's consultation on a new Communications Bill.
"[This] could also give Parliament a chance to consider how public service content could be delivered in a world changed by the growth of digital media," Ofcom noted.
Ofcom feels that all three options are "credible", but it is now up to
Jeremy Hunt
, the secretary of state for culture, to decide which is the best course of action going forward.
> British TV viewers becoming nation of 'chatterboxes'
> TV viewing being driven by social media buzz, says report