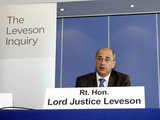 Fred Michel, a lobbyist for
News Corporation
, has told the Leveson Inquiry that there was no "inappropriate" contact with culture secretary
Jeremy Hunt
's former special adviser.
Appearing today at the inquiry into press ethics and standards, Michel denied claims that he had "puffed up" the closeness of his contact with Adam Smith, who
resigned last month after criticism of his conduct during the Sky bid process
.
Michel devoted almost all of his time in late 2010/first half of 2011 to promoting the benefits of News Corp's £8bn takeover of pay TV giant Sky to Hunt's Department for Culture, Media and Sport, as well as the Department for Business and Labour and Lib Dem MPs.
The inquiry heard that Michel made 191 telephone calls, and sent 799 texts and 158 emails to Hunt's advisory team, of which 90% were exchanges with Smith.
Robert Jay QC, counsel for the inquiry, said that Smith had sent 257 text messages to Michel between November 28, 2010, and July 11, 2011.
Michel said that he believed some of the "feedback" he was given by special adviser Smith in hundreds of telephone calls, emails and text messages had been "discussed" with Hunt.
Asked by Jay whether Smith was speaking for himself or Hunt in the conversations, Michel said that the adviser was "communicating the view of the secretary of state".
"I was representing News Corp and he was representing the secretary of state in those conversations," he added.
He also discussed an email, sent on the day before Hunt was due to make a statement to Parliament on the bid, which said: "Managed to get some infos on the plans for tomorrow (although absolutely illegal...!)"
Michel said that the comment had been a "very bad joke, that shouldn't have been made", and said that "with the benefit of hindsight" he wished he had said it differently.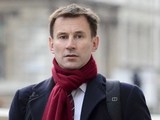 In his witness statement, Michel says he never had "any direct conversation" with Hunt relating to the Sky bid, apart from his attendance at two formal meetings.
The News Corp executive confirms that he "bumped into" Hunt at a London hospital where their wives were both about to give birth.
But after the culture secretary took on a quasi-judicial role in reviewing the takeover in December 2010, Hunt sent Michel a text message saying that all business contact "now needs to be through official channels until decision made..."
Michel, who described himself as a "compulsive texter", told the inquiry that he again sent a text message to Hunt in March 2011, saying he was "very good" in an appearance on Andrew Marr's BBC programme.
Hunt apparently replied: "Merci hopefully when consultation over we can have a coffee like the old days!"
The culture secretary has resisted calls for him to step down over the perceived closeness of his relationship with Rupert Murdoch's company during the Sky takeover.
He has denied that News Corp ever had any influence over his department, and will soon appear at Leveson to give his side of the story.
Michel claimed that Hunt was "keeping an open mind" about the bid, but when asked by Jay whether he had been supportive of it, he replied: "I can't say."
However, he denied that News Corp had been given a "running commentary" on the bid by Smith, who will also give evidence at Leveson later today.
News Corp submitted its first 700 pence per share bid for the 60.9% of Sky that it did not already own in June 2010, but withdrew the offer in July 2011 following massive pressure from the phone hacking scandal.