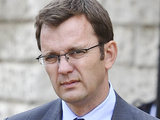 Andy Coulson
, the former editor of the
News of the World
, has been arrested on suspicion of allegedly committing perjury.
Coulson, who quit as David Cameron's communications chief in early 2011, was arrested by officers from Strathclyde Police early this morning (May 30) in London.
In
a statement
, the force said: "Officers from the Strathclyde Police Operation Rubicon team detained a 44-year-old male in London this morning under section 14 of the Criminal Procedure (Scotland) Act 1995 on suspicion of committing perjury before the High Court in Glasgow.
"This is an ongoing enquiry and therefore no further information is available at this time."
> Andy Coulson: David Cameron asked me about hacking in 2007
The case is thought to stem back to the evidence given by Coulson in the perjury trial of Tommy Sheridan in December 2010.
Former Scottish Socialist Party leader Sheridan was sent to jail for three years in 2007 for lying under oath during his defamation case against the
News of the World
a year earlier.
However, following the
News of the World
phone hacking scandal, the Crown Court ordered Sheridan's case to be reassessed, leading to him being released on January 30, 2012, just a year into his sentence.
Coulson was also arrested last year as part of the separate Metropolitan Police investigation into alleged voicemail interception by newspapers. He has not been charged with any offence.