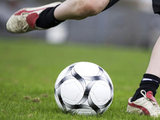 Shares in ITV were down nearly 6% today after an analyst report poured cold water on the expected spike in the TV advertising market for the Olympics.
The ad market in July, when the London 2012 opening ceremony will go ahead, could be down by as much as 10% year-on-year, according to Liberum Capital.
ITV's share price tumbled to 68.56p this afternoon on the gloomy forecast, down 5.95% on yesterday's closing price.
On Monday, the stock had reached 80p as investors backed ITV to benefit from a buoyant summer on the Olympics and Euro 2012.
Earlier in the year, the commercial broadcaster had predicted that ad revenue could be up as much as 17% in June due to Euro 2012 tournament.
But Liberum feels that on the back of the 10% decline in July, the market could also be down by as much as 5% in August.
Ian Walker, the head of media research at Liberum Capital, told
Media Week
that many non-Olympic sponsors are holding back activity for fear of their campaigns being lost, while others are even cancelling ads entirely.
"It looks as though those advertisers not associated with the Olympics have looked at the macro environment, with the uncertainty with Greece and the Euro and decided it's probably better to hold off spending," he said.
"You could even argue that people won't watch commercial TV [while London 2012 is on], so September will be a key month [for ITV]."
Television audiences are expected to be up 20% in August, but it has been observed that most viewers will be tuning in to the BBC, the licence-fee funded host broadcaster of the Olympics.
Analysts expect ITV to see its advertising revenue fall by 4% in the third quarter of the year (July to September), against early predictions of a 4% growth.
Investec issued a note today (Friday) cutting its forecast for ITV, and setting a target price of 60p for the firm's shares.
ITV declined to comment on the report.
Despite enduring potentially difficult summer months, ITV's prospects are expected to improve from September when its big shows, such as
The X Factor
, return to the air.
> ITV profits up as broadcaster cuts TV ads dependency
> ITV reports slowdown in ad revenue growth