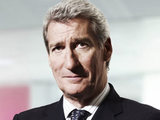 Jeremy Paxman has been criticised over comments he made on the BBC's
Newsnight
this week likening Greece to a "bad kebab" that was about to be "vomited out".
However, the BBC has refused to issue an apology for the comment, claiming that it was in keeping with Paxman's "provocative style and use of humour".
In a discussion with guests about the Greek economy on Wednesday night's programme, Paxman said: "So the rest of the Eurozone now contemplates something we were being told wasn't conceivable recently, that, like a bad kebab, Greece is vomited out of the single European currency."
Appearing live from Athens during the debate, Greek minister Giorgos Papakonstantinou responded: "Can I take issue with your 'bad kebab' analogy, which I find offensive.
"The Greek economy is in a crisis and the Greek people are going through a lot, and deserve some respect, and I really did not find that very appropriate."
Nobel-prize winning economist Paul Krugman, also appearing on the programme, shared the minister's disapproval.
"I think that was, actually, quite inappropriate, to say that the Greeks have done something terribly wrong," Krugman said.
The BBC confirmed that it had received complaints about Paxman's comment, but ruled out taking further action.
"Regular
Newsnight
viewers will be aware of Jeremy's provocative style and use of humour," a spokesman told
The Daily Telegraph
.
"The comment was firmly in that tradition. The guests responded to the comment within the debate, which quickly moved on to a wider analysis of the situation."
Last October, the European Commission
demanded an "unqualified apology" from the BBC
over what it claimed was the "disgraceful" treatment of one of its spokesmen by Paxman on
Newsnight
.
> Piers Morgan calls Jeremy Paxman an "ungrateful little wretch" after Leveson claims
> Jeremy Paxman criticsed BBC Television Centre sale plans