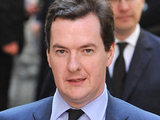 Chancellor George Osborne has said it would take a "real fantasist" to believe that the government conspired to hand the power to arbitrate over Rupert Murdoch's proposed Sky takeover to culture secretary Jeremy Hunt.
Appearing today at the Leveson Inquiry into press ethics and standards, Osborne discussed the coalition government's role in overseeing the £8bn bid by Murdoch's
News Corp
to acquire the 60.9% of pay-TV giant Sky that it did not already own.
Osborne said that he was unaware of the views of Hunt or prime minister
David Cameron
on the takeover while it was in process.
The chancellor told Lord Justice Leveson that he regarded the Sky bid as "a political inconvenience and something we just had to deal with".
He also dismissed a conspiracy surrounding the moment business secretary Vince Cable was stripped of the power to adjudicate over the Sky bid.
Cable had been secretly recorded by undercover reporters for
The Daily Telegraph
saying that he had "declared war" on Murdoch's media empire.
David Cameron then handed the decision to Hunt, despite it being well known that the culture secretary was at the very least "sympathetic" to News Corp's aims.
But Osborne told the Leveson today: "You have to be a real fantasist to believe that come these events we had knowingly allowed Vince Cable to be secretly recorded, we knowingly told the
Telegraph
not to publish that information.
"That information then emerges in the middle of the afternoon and we then, all part of this cunning plan, put Mr Hunt in charge. It doesn't stack up."
> David Cameron: Jeremy Hunt acted 'wisely' in Sky bid
> Vince cable considered Sky bid with 'independent mind'
Some commentators have suggested that Osborne and Cameron agreed a deal with Murdoch ahead of the 2010 general election, gaining support from his newspapers in exchange for backing the Sky bid.
This relationship, it has been claimed, was formed over a series of private meetings, such as a lunch with top News Corp execs at a Swiss ski chalet before the 2010 election.
Osborne admitted that the meeting took place, but said that it was actually in January 2009. He said that he did discuss the domestic political situation with Rupert Murdoch at one point, but the billionaire was more interested in the global financial crisis at the time.
He also recalled several meetings with James Murdoch, at which the News Corp exec complained about the licence fee-funded BBC.
"It was a more of a complaint that we had in this county a taxpayer-funded state broadcaster, but I made it clear to him then that we were not going to change that," Osborne told the inquiry.
Earlier in the day, former prime minister Gordon Brown
criticised Murdoch's The Sun newspaper for an exclusive report revealing the medical condition of his son
, that he believes was gained through illegitimate means.
> Rupert Murdoch denies Gordon Brown claims over Leveson evidence