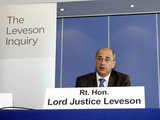 Rupert Murdoch threatened to withdraw his newspaper's support for Sir John Major's government unless it changed its policy on Europe, the former prime minister today claimed at the Leveson Inquiry.
Appearing at the Royal Courts of Justice, Major seemed to contradict Murdoch's
claim that he had "never asked a prime minister for anything"
, while giving evidence under oath to the Leveson Inquiry into press ethics and standards.
Major told Lord Justice Leveson that he felt that it was "undignified" for prime ministers to court newspaper editors and owners, but he did admit to meeting Murdoch before the 1997 election.
Despite saying that Murdoch's claim of never directly asking for anything may be "strictly speaking true", Major said that the media mogul certainly made his wishes known at the private dinner with their wives.
"It became apparent that Mr Murdoch didn't like our European policies and he wished me to change," said the former Tory leader.
"If we didn't change our policies, his papers could not and would not support the Conservative government."
Major said that he made it "pretty clear" to Murdoch that his policies would not be changed, and so it was unsurprising when Murdoch's the
Sun
shifted its support to Tony Blair's Labour in 1997, contributing to a landslide victory for the party.
Major, who lost that election, also hinted that Murdoch's support for Labour was expected as Blair was "in many ways to the right" of the Tory PM.
> Tony Blair insists 'no grand deal' with Rupert Murdoch
He is the second former prime minister this week to contradict the evidence of Rupert Murdoch at the Leveson, after Gordon Brown
claimed that a phone call in which he had apparently 'declared war' on Murdoch's News Corp never actually took place
.
Former Tory leader Major said that he had just three meetings with Murdoch while in office, as he was not keen to foster an "artificial friendship" between politicians and the media.
In a thinly-veiled attack on the approach of successors Blair, Brown and David Cameron, Major told the inquiry: "The role of politicians is to run the country; the role of the press is to hold the government to account.
"But I think once you begin to meld those roles neither the politicians nor the press are doing the job properly they are best fitted for."
Major was often mocked by the media during his premiership and he admitted to being overly sensitive about the "caricature" of the 'grey man of politics' painted of him.
"I'd wake up each morning and I opened the morning papers and I learned what I thought I didn't think, what I said that I hadn't said, what I was about to do that I wasn't about to do," he said.
"It is a bit wearing and I freely confess that I probably overreacted to that."
> George Osborne denies Sky bid decision conspiracy
> Jeremy Hunt 'should have resigned' over Sky bid conduct