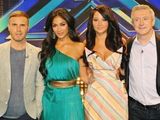 Shares in ITV were trading up 2% yesterday as speculation refused to die down that the
X Factor
broadcaster could be the subject of a takeover.
The markets reacted positively to news of ITV's tender offer for up to £250m of its bonds, which would help to lower the firm's debt interest payments.
Shares in the broadcaster were up 2% in trading yesterday to 76.25p, making ITV the leading riser across the FTSE 100.
Various parties have been rumoured as readying a takeover of ITV in the past, even including at one stage the cash-rich iPhone maker
Apple
.
No bid has materialised, but analysts believe that ITV's more healthy balance sheet could make it a target for private equity companies.
The Guardian
noted that one of the parties believed to be circling ITV is KKR, the global equity firm that is the co-controller of German commercial TV station ProSieben.
It is thought that as ITV will be cash positive to the tune of around £280m by the end of the financial year, it has become a much more attractive prospect for a deal.
There have previously been fears over ITV's ability to cut its dependency on television advertising, which is liable to annual peaks and troughs depending on the seasons.
For example, shares in ITV fell nearly 6% earlier in the month
after an analyst report poured cold water on the expected spike in TV advertising for the London 2012 Olympics
.
However, Panmure Gordon analyst Alex DeGroote said that
Sky and BT's recent £3bn deal for Premier League TV rights
shows the "value of content", and this is an area of emerging strength for ITV via its ITV Studios arm.
Reacting to ITV's bond move, he told
The Guardian
: "Very sensible treasury action. ITV has around £1bn cash on its balance sheet. Hopefully this will persuade the market that ITV is more than just a play on advertising.
"The market is plainly obsessed by advertising momentum. This may have deteriorated in the third quarter, following a very strong second quarter.
"It remains volatile. At the same time, the Premier League auction highlighted the value of content. ITV is a major content player, with more than 20% of EBITDA coming from Studios now."