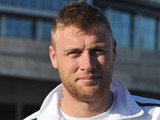 Andrew Flintoff has launched a stinging attack against fellow former England star Mike Atherton, questioning the
Sky
commentator's credentials to analyse international cricket.
According to
The Daily Telegraph
, Flintoff described Atherton as a "f**king pr*ck" on Thursday night (June 21) at a party in London held by Sky, which employs both men.
Atherton has forged a career as a respected cricket commentator for Sky since retiring from the international game in 2002.
However, he made some critical comments about Flintoff when he was England captain during England's disastrous Ashes whitewash in 2006.
Flintoff shunned cricket commentary after retiring due to injury from the England team in 2010, instead opting for TV entertainment shows such as Sky's
A League of Their Own
.
Atherton has not responded to Flintoff's comments, which
The Daily Telegraph
reports went beyond just name calling.
"He sits there making judgments about players that are much better than he ever was, believe me, he's a pr*ck," Flintoff is quoted as saying.
> Freddie Flintoff: 'I'd never do Strictly, I'm A Celebrity'
> Freddie Flintoff breaks 14 world records in 12 hours for Sport Relief
"How can he talk about a player like [England opening batsman] Alastair Cook who is ten times the player he ever was - he has a much bigger average and will go on and on.
"Atherton averaged in the 30s for England and yet he thinks he can judge others."
After being informed that he was speaking to a journalist at the Sky event, Flintoff is said to have responded: "I don't care. Say what you like. There's no love lost there."
The situation follows a similar, albeit less forthright, attack on another Sky pundit.
Last month, current England batsman
Kevin Pietersen
posted a critical message on Twitter about Nick Knight, who was appearing on Sky's coverage of England's first Test against the West Indies at Lord's.
Pietersen wrote: "Can somebody please tell me how Nick Knight has worked his way into the commentary box for the Tests?? Ridiculous."
The England and Wales Cricket Board (ECB) was not impressed, and
imposed a reported £5,000 fine on Pietersen, part-suspended for 12 months
.