0
Media News
Sky News to offer 'clearer picture' with revamped website
Sky
News has today unveiled a major revamp of its website, intended to make it easier for users to keep track of the biggest stories each day.
The new-look
Skynews.com
features a redesigned homepage that presents a "clearer picture" of the day's headlines, allowing users to "dive into the detail of stories", including graphs, timelines and images.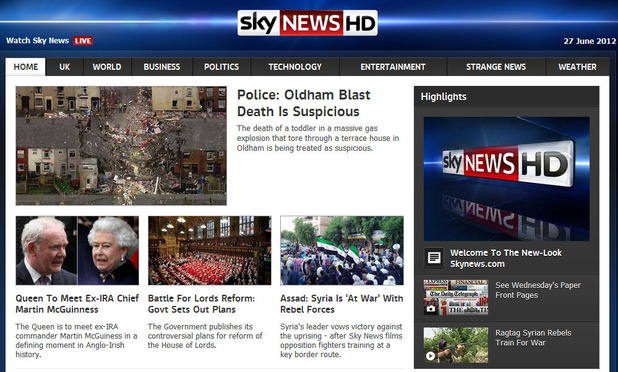 Navigation has been simplified so that visitors can find and share content more easily, while comment and analysis has been given a more prominent position, highlighting the broad range of views from Sky News correspondents and specialists.
The site is powered by the bespoke content management system that underpins all editorial activity across the Sky News digital platforms, including mobile and tablet.
Sky said that this approach allows for more "flexible storytelling", offering users background information that "helps put breaking news into context".
Other new features on the site including a weather section giving detailed three-hourly forecasts tailored to the user's postcode, along with information on the national and international picture.
Live streaming of the Sky News channel is available as before in the full screen, while the site also offers three-minute news bulletins and a roundup of the day's national newspaper frontpages.
"The new site is real progress for us, and completes our world-class multi-platform offering," said Andrew Hawken, the head of editorial at Sky News Digital.
"Viewers will find the site easier to navigate, with all the top stories in one place and with much more detail, as well as additional benefits like a broader range of comment and analysis pieces and more detailed weather service."
Sky News Online executive producer John Jelley added: "We went back to the drawing board to give video and rich interactive media a more central role in the site.
"We wanted to make the most of a new content management system to produce some of the web's best story experiences - where any type of content can take the lead, and where users can explore a full range of relevant context, all on the same page."
> News Corporation confirms it is considered business split
> Sky News celebrates awards win with Android app update