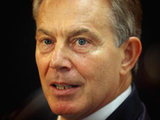 Tony Blair
today (June 27) guest-edits London's
Evening Standard
newspaper.
The former prime minister took the reins at the daily freesheet to mark the paper's one-month countdown to the London Olympics and the fifth anniversary of Blair's resignation.
"It seemed a good idea therefore to invite him to guest-edit today's edition of the
London Evening Standard
," the
newspaper
said.
"The subjects and writers he has chosen have a particular significance for him. His friend President [Bill] Clinton writes today on progress in Africa while Bob Geldof remembers the Gleneagles G8 Summit which doubled aid to Africa. Mr Blair writes on the Arab Spring and how we should respond to it.
"Our leaders today - on Lords reform, the Olympics and the Queen in Northern Ireland, are based on his views.
"Other than this, the former PM was happy to take advice from the editorial staff. As he said, 'Alastair [Campbell] always said I had crap news judgement'. I hope our readers enjoy this extraordinary paper."
Today's issue also features an
interview
with Blair conducted by the paper's editor Sarah Sands.
Of campaigning for the London 2012 bid in Singapore in 2005, Blair said: "I went to the men's room for a pee and was standing next to a bloke I assumed was British, obviously western.
"I started chatting to him and he turned to me and said in a strong Nordic accent, 'Why are you asking me these questions?'
"And I realised that he had no idea who I was and thought I was trying to pick him up."