0
Media News
BBC Sport launches Facebook application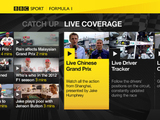 BBC
Sport has launched a
Facebook application
enabling users to stream its live footage.
The broadcaster is bringing coverage of events including Wimbledon and the Olympics to the social network, allowing online viewers to discuss the action via chat and comments.
Starting or 'liking' a stream will display it in the news feed, while an in-app Activity Stream will provide users with real-time updates about what their friends are watching.
The app launched today (June 28) in beta to offer coverage of Wimbledon. The BBC's televised coverage can be streamed through the platform, in addition to six extra matches from across the courts. A comments thread and sharing features will be in place for the Olympics next month.
Phil Fearnley, general manager BBC News & Knowledge, said: "It's a core part of the BBC's mission to bring our quality content to audiences wherever they are, so I'm very excited to be able to offer sport fans on Facebook a really distinctive live streaming experience.
"With our Facebook app we aim to bring even greater value to our online audiences, enabling them to watch together and share their excitement. We hope to use it to test the benefits of social viewing, as part of our ambition to deliver more innovative and transformative experiences to sports fans."
The BBC announced earlier this month that it will offer
multi-platform coverage of Wimbledon via its apps for smartphones, tablets and connected TVs
.