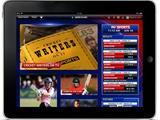 A YouGov survey has revealed that a fifth of those choosing to watch sport over the summer will do so online.
While traditional TV (at 65%) and public screens (10%) are still the most popular mediums for watching or listening to sport, 20% claimed that they would be watching in an online capacity.
This includes on personal devices such as home PCs (9%), on a laptop (7%), and on an iPad or tablet (3%).
The
BBC
is expected to be one of the biggest contributors to the upcoming surge, with the broadcaster predicting that the footage will generate a terabit (1 trillion bits) per second of traffic at peak times.
This is the equivalent of 1,500 people downloading a feature-length DVD-quality movie every minute.
The findings came from a YouGov poll of over 2,000 UK citizens aged 18 and over examining how consumers intend to use technology to keep up to date with sport, as well as their general preferences towards media consumption.