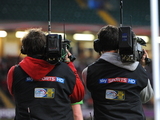 Sky Sports has agreed a new deal that will ensure coverage of Scottish top flight football remains on the satellite broadcaster for at least another five years.
The Scottish Premier League previously agreed a television deal worth £80m over five years with Sky and fellow broadcaster ESPN, but that was before Rangers hit the financial rocks.
Despite fears that losing one of the Old Firm clubs down to division three could have led to dire consequences for the SPL, league officials have managed to agree a new deal with Sky that will keep it committed to Scottish football.
Sky's new deal includes 30 live SPL matches a season coming to Sky Sports channels, along with five live fixtures featuring the Rangers Newco in the Scottish third division.
The coverage of the 2012/13 SPL campaign will begin with Celtic versus Aberdeen this Saturday (August 4 - kick off 12.45pm).
Subscribers to Sky Sports will be able to follow the reformed Glasgow Rangers in the Scottish Football League, starting on August 11 for the opening clash away at Peterhead (kick off 12.45pm).
Sky will be able to show Scottish football action across multiple platforms, including TV, online, mobile and tablet devices through Sky Go, as well as offer highlights and news coverage.
However, the deal still has to be ratified by all clubs in the Scottish Premier League this Friday (August 3).
"We've supported Scottish football since we started over 20 years ago, and have always wanted to continue that commitment," said Barney Francis, managing director of Sky Sports, in
a statement
.
"Our viewers will see the SPL for five more years and our schedule includes the opening league match for Celtic. We will also follow Rangers as they plot their way back to Scottish football's top flight.
"Clubs now have certainty over their income and exposure across the UK and Ireland and we look forward to the new season."
In addition to SPL and Rangers' third division matches, Sky Sports also has rights to all Scotland's home internationals, including the World Cup qualifiers against Serbia and Macedonia in September.
ESPN has not announced whether it has also agreed to new terms to its Scottish football matches, but it is
expected the broadcaster will agree to show 35 games per season, along with selected ties featuring Rangers
.