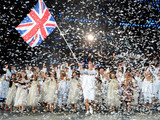 The BBC executive in charge of the London 2012 Olympics coverage has been appointed the temporary head of the corporation's Vision production operation.
Roger Mosey, the BBC's director of London 2012, will take on the new role on August 20.
He will become head of Vision on an acting basis, while the BBC searches for a permanent replacement for George Entwistle, who was
recently appointed its new director general
.
In turn, Mosey will be replaced by Dave Gordon - head of major events at BBC Sport - as director of London 2012 for the duration of the Paralympic Games.
The BBC will hand on the broadcaster baton to Channel 4 for the Paralympics, but will remain involved in the coverage.
Entwistle is due to become overall boss of the BBC on September 17, taking over from incumbent Mark Thompson.
BBC Vision is responsible for the commissioning, producing, scheduling and broadcasting of all programming on BBC television channels.
Thompson confirmed that Entwistle would leave BBC Vision later this month in order to focus on preparations for becoming BBC director general.
The search for someone to lead Vision on a permanent basis will begin later in the autumn, Thompson added.
Posting on Twitter, Mosey
said
: "Honoured to have been asked to be acting director of BBC television this autumn. But focus now on seven more days of Olympic Games!"
Mosey has been director of London 2012 since April 2009, including responsibility for all planning of the corporation's coverage of the Olympics, the Paralympics and the Cultural Olympiad.
Yesterday, around 20 million people
sat down to watch to Usain Bolt's victory in the 100 Metres Final
, around 67% of the audience at that time. Earlier in the day, 10.7m tuned in to see Team GB's Andy Murray win a gold medal in the tennis.
Photo gallery - London 2012 Olympics:
Copyright: Martin Rickett/PA Wire/Press Association Images