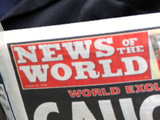 A former news editor of the
News of the World
in Scotland has been arrested and charged with perjury over the trial of former MSP Tommy Sheridan.
Douglas Wright, 39, was yesterday charged with perjury and multiple offenses related to conspiracy to obtain personal data, including phone hacking.
Strathclyde Police said that Wright was detained as part of its Operation Rubicon, which is investigating allegations of phone hacking, perjury and data protection breaches in Scotland.
A report will now be sent to prosecutors, who will then decide how to proceed with the case.
In May, Operation Rubicon officers also
detained former News of the World editor Andy Coulson at his London home
and questioned him in relation to the evidence he gave at the perjury trial of former Scottish Socialist Party leader Sheridan in December 2010.
Former
Celebrity Big Brother
contestant Sheridan was sent to jail for three years in 2007 for lying under oath in his successful £200,000 defamation case against the
News of the World
a year earlier over a report claiming that he visited an adult swingers' club.
The Crown Court later ordered Sheridan's case to be reassessed, leading to him being released on January 30, 2012, just a year into his sentence.
Wright, who lives in London, was interviewed at Govan Police station in Glasgow yesterday at 2pm, after a request from Strathclyde Police.
BBC News
reports that he left the station late on Thursday night and is not expected to appear in court today.
> Andy Coulson to vigorously contest perjury charges
> Andy Coulson to face Crown Court in September over hacking charges