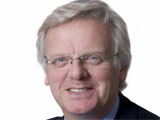 BBC chairman Michael Grade is to quit the corporation for the top job at ITV, it has been confirmed.
Grade's new position of "executive chairman" incorporates the role of chief executive, a position vacant since
Charles Allen stepped down
from the post in August.
Sources told
The Daily Telegraph
that the BBC was "incandescent with rage" at the surprise defection. Grade has been a key figure in the BBC's bid for an increased licence fee settlement, a decision on which is expected by Christmas.
"I wouldn't have bet any money on this happening at all," media analyst Ray Snoddy told
Sky News
. "I can only think that someone has offered him a great deal of money indeed."
Interim CEO John Cresswell will become ITV's new chief operating officer once Grade takes up the position on January 1.
As well as addressing the issue of declining advertising revenues at ITV, Grade - a long-term critic of BSkyB - will have to manage relations between failed ITV bidder Richard Branson and the satellite company, which recently took a 17.9% stake in the company.