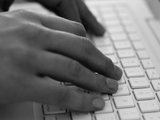 A Facebook page featuring a post from someone pretending to be a 4-year-old boy who was tragically lost at sea has been removed from the social network.
Rachel McCollum, the mother of Dylan Cecil, said that she had been left "destroyed" by the comment.
Dylan fell from the jetty at Burnham-on-Sea, in Somerset, on Sunday at around 6pm. His parents had tried to save their son but were unable to reach him.
The offending page was set up on Facebook bearing Dylan's name. It had two posts, the first saying: "This is a memory page of Dylan that sadly lost his life, let's show the family we're thinking of them and sending our love. x."
But the second post said: "To my mum, my daddy and sisters and sea side grandparents I love you all am in heaven waiting on you all.
"I'll be looking down on you :-) x SENT FROM THE RAINBOW AND FLOWERS AND SUNSHINE IN HEAVEN...X."
Posting on her Facebook page after seeing the comment, McCollum said: "How low can people be? I tried saving my son and a page [is] set up speaking like they are him.
"I'm distraught he is still missing at sea, I ain't slept at all and to find someone pretending to be my son has destroyed me even more."
Facebook has now taken down the page after finding that it had violated the firm's terms and conditions.
"Impersonating others is against our terms, and we encourage people to report such activity to Facebook via the reporting links located on every page of the site," a spokesperson for the social network told the
Press Association
.