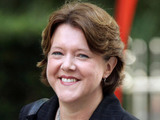 Culture secretary
Maria Miller
has pledged her support to the adoption of superfast broadband on a wider scale across the UK.
The newly appointed secretary of state for culture, media and sport has proposed changes to regulations that will enable internet service providers to install fibre optic cables without planning permission.
Britain's sites of scientific interest, including those which host protected wildlife, will remain protected but restrictions elsewhere will be lifted if the measures are implemented.
"We are putting in the essential infrastructure that will make UK businesses competitive, and sweeping away the red tape that is a barrier to economic recovery," Miller said.
"The government means business and we are determined to cut through the bureaucracy that is holding us back."
The proposals were drawn up to help the UK government meet its target of
achieving the fastest broadband speeds in Europe by 2015
.
Miller replaced Jeremy Hunt as culture secretary
as part of a cabinet reshuffle earlier this week.