Media News
Pratchett pulls in the viewers for Sky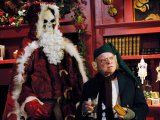 The first part of Sky One's adaptation of Terry Pratchett's
The Hogfather
managed an impressive average of 2.6 million viewers last night.
This figure means the £6 million production, which stars David Jason and Marc Blake, has become the highest rated multichannel commission, beating BBC Three's
Torchwood
, which started on 2.4 million viewers in October.
2.4 million viewers initially tuned in to Sky One, according to unofficial overnights, but
Hogfather
increased its audience as Sky's multi-start viewers were added to the figures.
Sky One director of programmes Richard Woolfe said: "Sir David Jason has brought Christmas to Sky One early. Terry Pratchett's film was the perfect fantasy treat for people of all ages."
Only an episode of
Friends
broadcast on Sky One in January 2000, which was watched by 2.7 million viewers, has achieved higher ratings for non-sport content on the channel.