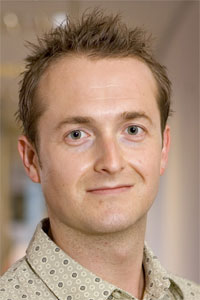 Each week we'll be asking people from all parts of the media industry - from channel controllers to catering staff, directors to digital technicians - to tell us about themselves and their job.
This week it's the turn of one Jon Farrar, formerly of Carlton, UK Play/Play UK (delete as you prefer) and VH1, but now in charge of scheduling at the ever-popular
Sci Fi channel
- the UK home to
Heroes, Medium
and
Angel
, as well cult classics like
Day of the Triffids
and
V
.
Name
Jon Farrar
Job Title
Programming director, Sci Fi Channel.
Age
34
Lives
Highgate, London.
In the role since
September 2005.
Responsibilities
Looking after the acquisitions and scheduling of all content on Sci Fi UK, as well as overseeing the programming for NBC Universal's UK growth initiatives across all platforms.
Best thing about your job?
Those rare moments when the all the pieces of the jigsaw fit into place and the entire programme schedule fires at the same time.
Worst thing about your job?
Chasing the daily buzz of good overnight ratings can sometimes leave you feeling like a broken crack whore.
First thing you do in the morning when you get in?
Randomly surf the internet for 5 minutes to get it out of my system for the day.
What question have you been asked most this week?
"Why did
Fight Club
get no viewers?"
What is your favourite Sci-Fi channel show?
She Spies.
It's the show
Heroes
could have been. (
Yeah Jon, we've seen the outfits!
- JO)
What is your favourite sci-fi TV programme of all time?
The X-Files.
Any downsides to working in the media?
No. I used to work in a curtain rail factory so this still feels like a step up.
First media job
Postboy, Carlton TV from January 1996.
Biggest achievement to date
Working with a team at Sci Fi that has made the channel a real player, despite its limited resources.
Anything you wish you'd done differently?
Found a way of making UK Play work during my time there. A channel that gave talent like Russell Brand, Mitchell & Webb, and Lucas & Walliams their debut series should have been able to pull in more than 12 viewers.
Dream job/company/lifestyle
Cheese buyer for a small chain of independent retailers specialising in quality savoury products.
Best media jolly/event you've ever attended?
The ITV
British Comedy Awards
are hard to beat but a Tuesday afternoon in the pub last month with the team, some dodgy lager, Gail Porter, and the
Heroes
first night ratings runs a close second.
If you could have your own fantasy 'niche' channel, what would it show?
The last two minutes of the 1999 Champions League final on a loop.