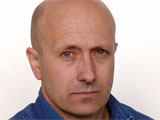 The BBC is holding a worldwide vigil today for BBC Gaza correspondent Alan Johnston to mark 100 days since he was captured in Gaza.
Johnston's parents will be joined by villagers at their home in Lochgoilhead, Scotland, where they will release 100 balloons at 2.15pm.
At the same time, Johnston's BBC colleagues, including members of the executive and the BBC Trust, will pause for a moment to show their support. Staff will be holding posters and wearing T-shirts with messages calling for his release.
News 24 and BBC World will broadcast the events live.
Director of BBC News Helen Boaden said: "On the hundredth day we are more steadfast in our support for Alan than ever and our thoughts are always with his family."
170,000 people have now signed a petition on the BBC website calling for Johnston's release.