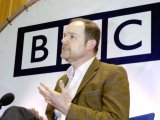 BBC director general Mark Thompson today outlined a spirited argument for the continued existence of public service broadcasting - and the corporation itself - in 21st century Britain.
In a keynote speech titled
Delivering Creative Future: The BBC in 2012
delivered at the QE2 Conference Centre in London, Thompson argued that public service broadcasting will become more, not less, important as digital media takes hold in a post-digital switchover world.
"Public service broadcasting is not a piece of arid theology," he said. "It's a passion – a passion which I believe you can see in Planet Earth and hear in Alan Johnston's voice...
"Public service broadcasting is broadcasting that seeks to do more than satisfy immediate consumer demand. It seeks to promote a wider good for individuals, for households, for the public at large.
"Public service broadcasting is the reason – the only reason – why the BBC exists. The point of the BBC is not to make profits or generate value for shareholders but to improve the public's quality of life.
"The "good", the "public value", which the BBC seeks to build is something which the public at large understands and wants. They tell us so, in overwhelming numbers, every time we or Ofcom or DCMS or anyone else asks them. There is no evidence that this public appetite is reducing in any way. On the contrary.
"And the good is definable and, with the help of the public, demonstrable. It is set out, more clearly than ever, in our new Charter in the form of six "public purposes". Every year, the Trust will report – with evidence – progress against those purposes."
Thompson went on to discuss a fifth reason to ensure the sustained existence of public service broadcasting.
"My fifth and final point is more complex, but it's worth spelling out because it's the source of so much confusion and misunderstanding.
"The only economic justification for the BBC – indeed for any public intervention in broadcasting – is market failure. If purely commercial media can adequately deliver all of the public value that the public actually want, you don't need a BBC or a Channel 4. You don't need a licence-fee. You don't need to intervene at all in the commercial objectives of ITV or five or anyone else.
"We should acknowledge moreover that commercial media can and does deliver public value: Sky News helping citizens understand the big issues of the day; Disney, Time Warner and Dreamworks delivering high quality original family entertainment; and so on.
"The claim for public service broadcasting – and for the BBC – is not that it seeks to correct some absolute market failure, that without it there would be a public value score of zero. It is that it delivers far more public value than the market would on its own. More than that, that it conditions the media market as a whole, promoting more quality and more choice than otherwise would be the case. Finally that it encourages a culture of creative risk-taking which would be impossible to justify on purely commercial grounds.
"So: yes – market failure is key. If there is no market failure, you don't need public service broadcasting. And yes – PSBs like the BBC must demonstrate that what they offer is distinctive and has a meaningful and net positive effect on the choices available to audiences and on the creative industries as a whole.
"But beware of crude and self-serving versions of the market impact argument – or the suggestion that if anyone anywhere is producing a given genre to any standard then the case for PSB involvement instantly collapses. In survey after survey, the British public themselves make it clear that they have a broad rather than a restrictive definition of PSB."
Click next to read Thompson's analysis of Sky News' departure from cable and Freeview...
Thompson argued that five years from now, market failure will still be a factor in the provision of news and current affairs content to audiences in Britain and around the world.

"In the UK, the only substantial TV news and current affairs is associated with public service intervention on the BBC, ITV, Channel 4 and Five. There is one significant and high quality commercial player, Sky News. But BSkyB is not a PSB. For entirely justifiable business reasons, it has removed Sky News from cable and plans to remove it from Freeview homes. By 2012 it may only be available in around only half of UK households – and of course only in households with the income to pay for it.

"Now, people sometimes argue that it is only because of the market distortion which PSB, and in particular the BBC, represents that this situation pertains. Take away the licence-fee, and a new, rich and diverse audio-visual news and current affairs tradition would at once begin to flourish.

"Don't kid yourself. Around the world, including in markets like the US with no tradition of public intervention like ours, investment in news is undergoing a crisis. In virtually every country I know, newspapers are cutting back their spend on foreign reporting and on investigative journalism as well.

"When I was a young journalist at the BBC, the US networks had the most powerful international news-gathering operations on the planet – they were the equivalent of America's carrier-groups and airborne divisions ready to move at a moment's notice to any point on the globe.

"What a different story today. As one senior American TV executive explained to me recently: foreign news is complex and generally dispiriting – audiences don't like it very much – and it's expensive and dangerous to make. "Soon", another US editor told one of my colleagues, "international reporting is going to be the wire agencies and you".

"Around the world as in the UK, take away the BBC and you will take away much of the coverage – it's as simple as that.

"Market failure in the supply of quality news and current affairs is growing."

He added that the BBC and other public service broadcasters make major investments in comedy and drama. He warned:

"If you want to see what 2012 would look like without the BBC and PSB, surf through your Sky or cable EPG beyond the public service channels.

"You'll find some good programmes there. But there are yawning gaps as well – and it is through those gaps that much of our talent and nearly all of our production base would fall. So too would much of the content which our audiences love most."

> Click here for Joanne Oatts' in-depth report on the future of PSB