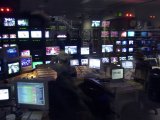 BBC News has won two awards in the news categories of the International Emmys.
The BBC's coverage of last summer's Lebanon conflict won the international news award and the BBC Two current affairs commission
Baghdad: A Doctor's Story
took the only other international award.
Guardian Films made the documentary with Ben Summers producing and with assistance from the BBC News Baghdad team. The film was shot by an Iraqi doctor in a Baghdad emergency room. He agreed to film his own hospital anonymously to bring the truth about the civilian casualties to light.
BBC director of news Helen Boaden said: "
Baghdad: A Doctor's Story
by Guardian Films was a brilliant commission by Current Affairs. It took a lot of nerve and tremendous bravery on the ground, to deliver this extraordinary and memorable film."
She added: "Our overall coverage of the Lebanon conflict was an outstanding collaboration between teams across all platforms and this award recognises the journalistic excellence of BBC News."