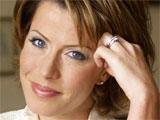 Natasha Kaplinsky is to present Five's main news bulletins starting in 2008, the channel announced today.
Kaplinsky
joined the BBC in 2002
after two years at Sky News, where
she presented
Sunrise
before moving to
Live at Five
. Sky News now produces Five's news output.
Kaplinsky was recruited by Five's senior programme controller Chris Shaw, the channel's director of programmes Jay Hunt, and Five News editor David Kermode, with whom she worked on the BBC's
Breakfast
programme.
In a statement, Kaplinsky said: "After five incredibly rewarding years at the BBC, I found the chance to work with the team at Five too exciting to pass up. Chris Shaw has an unrivalled track record in reinventing television news and I already know how talented Jay Hunt and David Kermode are, having worked with them at the BBC. Five has changed the face of news before, and now they're going to do it again. I can't wait to be a part of it."
"Natasha is one of the most talented broadcasters on British television," said Hunt. "From the Six O'Clock News to Children in Need she has demonstrated her popularity with viewers. I am thrilled she has decided to join Five and become one of the key faces of the channel."
Kermode added: "Natasha is one of the brightest stars in broadcasting and I'm absolutely delighted that she's joining Five News. She's a great communicator, and has a really distinctive style that sets her apart."
Kaplinsky will present Five's bulletins at 5:30pm and 7pm, which are to be relaunched in the New Year.