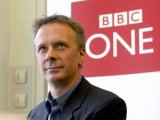 BBC One controller Peter Fincham has resigned from the corporation over his handling of a misleading trailer for
The Queen
.
On July 11, Fincham presented a trailer to journalists for the RDF-produced documentary in which the monarch appeared to storm out of a photo shoot with photographer Annie Lebowitz. He told the media press corps that the Queen was depicted "walking out in a huff"; however, the trailer had been edited out of sequence by RDF.
A report into the scandal penned by former BBC executive Will Wyatt was issued this afternoon and heavily criticised Fincham for a delayed response. According to Wyatt, "the first sign that something was wrong came early in the afternoon of July 11", when an executive producer at RDF told a series publicist that the Queen's appearance of storming off didn't "sound right". At 6pm, senior figures at RDF were aware of the mistake and by 7pm, Fincham had been informed. Critically, however, Fincham failed to inform the press of the error until the following day, by which time the story had run in national newspapers and on the BBC's own news services.
> Click here for a full summary of the Wyatt report
In a letter to BBC director general Mark Thompson, Fincham said: "It is with very great regret that I have concluded, following Will Wyatt's report, that I should resign as Controller of BBC One.
"I have had the tremendous privilege of leading BBC One through a period where the channel has undergone creative renewal. I believe we have made some really great programmes.
"While I leave the channel with great sadness I am tremendously proud of what I and my team have achieved."
In response, Thompson said: "It is with real sadness that I accept your decision to resign. Your decision to take responsibility demonstrates the integrity and conviction which has characterised your leadership of BBC One. I know my sadness today will be shared across the BBC and the wider broadcasting industry.
"You have been an outstanding Controller. Under your leadership the channel has flourished and you have built an environment in which some of the most talented people in television have brought their best creative work to our audience. The decision by your peers at the Edinburgh Television Festival in August to name BBC One Channel of the Year shows how widely this view is shared.
"I know you will continue to make an outstanding contribution to British television."