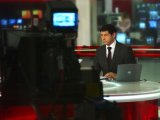 Overall plays and daily unique users for video and audio on the BBC News and Sport websites have significantly increased since the content was embedded in text stories.
Until four weeks ago the content was delivered in a separate browser window.
The average number of daily unique users of audio and video has now risen from 528,000 to 762,000, while average daily plays of content have increased from 636,000 to 978,000.
The proportion of users choosing to "click through" from a text story page to audio or video has risen from an average of 2.5% to 20%.
The BBC said three of the most popular videos were a story about an alleged security flaw in Facebook with 303,000; footage of the Burma cyclone with 248,000 views on May 6; and Ronnie O'Sullivan's 147 break at the World Snooker championship with 157,143.
Pete Clifton, the BBC's head of editorial development for multimedia, said: "The embedded player really does justice to all our fantastic video and audio clips and we are delighted it has been so well received by the users of our news and sport sites.
"Our mission is to make our content easier to find, play and share, and the embedded player hits all those aims perfectly."