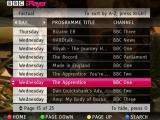 Connecting interactive services to the internet and developing common standards in IPTV have been identified as priorities in the BBC's plans for 2008/9.
The corporation today also said it intends to "create a dynamic underlying architecture and a new identity, rating and recommendation system" to "form the basis of personalisation on all platforms".
The plans are laid out in the BBC's latest Statement of Programme Policy, published today, but could be limited by BBC Trust
moves to control spending on internet projects
.
Under the banner of its BBCi interactive service, the BBC wants to "explore the use of Internet Protocol to enhance the quality and impact of interactive television content".
The corporation is taking a leading role in
work to allow interactive TV applications to connect to the internet via Ethernet
. Specifically, it is keen to make iPlayer on-demand content accessible on more television screens. This is likely to begin with interactive services for Freesat equipment.
On a related but potentially more far-reaching note, another priority is to "establish a single set of IPTV standards to publish content in a cost-effective manner to this emerging platform".
The BBC's statement said it also wants to allow "audiences to 'tear off' BBC content and embed it in other websites" and increase video and audio content available on mobile devices.
Recognising concerns published last week by the BBC Trust, the corporation said: "[BBC.co.uk] should act as a starting point on the internet from which users can develop their use of the medium and provide a trusted guide to the wider internet. BBC.co.uk should, at all times, balance the potential for creating public value against the risk of negative market impact."
The BBC acknowledged its online plans were now "subject to Trust approval" and said they were "designed to address the priorities identified by the BBC Trust, futureproof the delivery of the purposes, and address perceived gaps in delivery".
The Trust has put spending for the website on hold until BBC executives come up with new management and development plans.