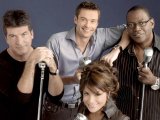 ITV2 left too much US product placement in its edits of
American Idol
, broadcasting regulators have ruled.
Music videos featured in the final rounds of the latest series featured "prolonged" and close-up shots of Ford cars, including the interior and sometimes logos, Ofcom said.
In the US product placement is allowed, but to be aired in the UK programmes must be edited so items are not "promoted... or given undue prominence".
Ofcom said shots of Ford cars were "similar to those often included in advertisements" and "tended to be a key component of the videos". "For example, one video had a matador theme with a Ford Mustang car (clearly identifiable from its logo, shown in close-up) playing the part of the bull. We considered that the involvement of the contestants in the videos was insufficient editorial justification for these very prominent visual references to Ford."
ITV said it had received no sponsorship from Ford and that the videos were included "purely on their editorial merits". Several segments where the cars were too prominent had been edited out and very occasionally entire videos had been removed. The broadcaster did accept that parts were "sometimes on the borders of acceptability", however.
ITV has been hoping for a relaxation in UK rules on product placement so it can make additional advertising revenue. However, Ofcom points out that the practice is currently prohibited by European Union law.