0
Movies Review
Cannes 2010: 'Biutiful'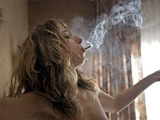 Director Alejandro González Iñárritu developed a very particular style over his first three movies. The explosive
Amores Perros
set the template with its interweaving plotlines shattered out of chronological order. He used a similar concept for the fine US-shot
21 Grams
and upped the ante further for the slightly messy multi-language
Babel
, which was set in Morocco, Japan and the US/Mexico border. That film supposedly marked the end of the director's 'Death Trilogy', but mortality is very much at the centre of
Biutiful
. What Iñárritu
has
wisely left behind though - with the exception of the movie's brief bookends - is the twisting, turning timelines that initially intrigued and later infuriated with equal measure.
In
Biutiful
, flawed but well-meaning father Uxbal (
Javier Bardem
) struggles to do what is right with the hand life deals him. He is separated from his wife Marambra (Maricel Alvarez) and has custody of their two children. He arranges work for illegal Senegalese and Chinese immigrants and pays off the police, both helping and exploiting those on the very edges of modern Spanish society.
The story is heartbreakingly written and beautifully acted. Bardem especially turns in a performance that will have you weeping in the aisles, but without even hovering over the dreaded lever labeled 'shmaltz'. Uxbal's rarely-exhibited ability to see recently dead people (yes, I know, but it's not really like that) is a flourish the film doesn't need, but it doesn't mar a wonderfully put together picture. Bardem and Iñárritu draw you in to a story that says so much about not only its individual characters but also of life, exile, love, family and death.

Leave your comments on this entry below!