2
Movies Review
Sleeping Beauty (Cannes 2011)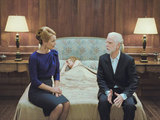 Australian novelist Julia Leigh has already grabbed plenty of attention for the script of her debut feature
Sleeping Beauty
, and it's not hard to see why. A bit of drugs, plenty of nudity and a whole load of strangeness adds up to a visually stunning and sometimes inspired debut feature. It borrows ideas from fairytale and folklore, but
Twilight
or
Red Riding Hood
this is not. 'Presenter' Jane Campion (
The Piano
) calls the movie "shocking and beautiful", and she's not wrong. It doesn't completely succeed, but the film certainly marks out Leigh and lead star
Emily Browning
(
Sucker Punch
) as ones to keep the keenest of eyes on.
Our sleeping beauty is ingénue Lucy. She juggles college with a handful of jobs and taking care of her ex-addict friend Birdmann (Ewen Leslie). Responding to an ad, she picks up her latest vocation; a lingerie-clad silver server with the possibility of promotion. That promotion - to Sleeping Beauty - is one she wins, and under the tuition of madam Clara (Rachael Blake), she agrees to be sedated for several hours at a time. What she can guess but doesn't know for sure is that each time she sleeps, another awkward, elderly man has his way - but not completely - with her.
Sleeping Beauty
winds you in and winds you up, forcing you to feel sympathy for Lucy's plight while necessarily also teasing out uncomfortably voyeuristic sensations. As a series of scenes, it's occasionally incredible, but it doesn't hang together. You buy into Lucy, but the combination of fairytale and reality of the situation that surrounds her frequently fails to convince. Browning is remarkable in the role. There's lots of nakedness, much of it emotional, even more of it physical, both requiring a fair bit of bravery. She dominates the screen, even when unconscious, and somehow manages to convey a painful fragility and raw underlying strength.

> Sleeping Beauty: In Pictures
> Emily Browning: 'Charlotte Gainsbourg inspired me'
> Cannes Film Festival complete coverage
Watch the trailer for
Sleeping Beauty
below: