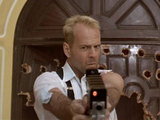 Sci-fi flicks
The Fifth Element
and
Danny Boyle
's
Sunshine
find their way to DVD and Blu-ray this week, while there's also a return to form for
Gremlins
mastermind Joe Dante and
even more
from the
StreetDance
crew. Below, we take a look at five big new home releases you might want to be adding to your collection.
The Fifth ElementStarring:
Bruce Willis, Milla Jovovich, Gary Oldman, Chris Tucker
Format:
BD
The movie:
Luc Besson's dazzling depiction of a future New York stars Bruce Willis as a cab driver who crosses paths with Milla Jovovich's dreadlocked Leeloo and sets out on an adventure to save humanity. Not only is this a visually spectacular flick that's perfect for the Blu-ray format, it's also huge fun thanks to a scenery-chewing turn from a villainous Gary Oldman.
Bonus features:
five making-of documentaries; visual effects commentary; theatrical trailer; MTV Cannes premiere footage.
Watch the theatrical trailer for
The Fifth Element
below:
The Hole 3D
Starring:
Chris Massoglia, Haley Bennett, Teri Polo
Format:
BD 3D
The movie:
Gremlins
legend Joe Dante returns with his first movie since 2003's
Looney Tunes: Back in Action
. His horror flick
The Hole
might be aimed at children, but it's a spooky experience nevertheless - that clown puppet is still giving us nightmares! A new Blu-ray 3D release best exhibits all the nooks, crannies and corridors inside a hole two brothers uncover in their basement.
Watch our interview with Joe Dante below:
Gnomeo & Juliet
Starring:
James McAvoy, Emily Blunt, Michael Caine, Jason Statham
Format:
BD, DVD
The movie:
A whacky idea if ever there was one - Shakespeare's tragic love story retold with garden gnomes! -
Gnomeo & Juliet
is a surprisingly entertaining and heartfelt 3D animation featuring an eclectic voice cast of James McAvoy, Emily Blunt, Jason Statham, Michael Caine... and Ozzy Osbourne! It's also a toe-tapping pseudo-musical, with classic tracks from Elton John (who also executive produces) weaved into the soundtrack.
Watch Emily Blunt talk about
Gnomeo & Juliet
below:
StreetDance 3D
Starring:
Nichola Burley, George Sampson, Charlotte Rampling
Format:
BD 3D
The movie:
The first movie of its kind to be filmed in 3D,
StreetDance
was a huge box office hit in the UK last summer and now it's getting a reissue exclusively for 3D TV owners. George Sampson, Diversity and Flawless provide some eye-popping dance moves as Nichola Burley's dance crew is forced to train with a ballet group from the Royal Dance School in exchange for rehearsal space.
Watch the trailer for
StreetDance 3D
below:
The Danny Boyle CollectionStarring:
James Franco, Cillian Murphy, Dev Patel, Freida Pinto
Format:
BD, DVD
The movie:
After a difficult experience in Hollywood with
The Beach
, this eclectic mix shows Danny Boyle at his genre-hopping best.
28 Days Later
almost single-handedly revived the zombie movie,
Sunshine
's breathtaking visualisations of the dying sun and Underworld soundtrack make it an almost-classic sci-fi,
Slumdog Millionaire
hoovered up Oscars and the euphoric survival drama
127 Hours
, also available to buy separately today, is perhaps the best of the lot. A must-buy for Danny Boyle fans.
Watch Danny Boyle talk about
127 Hours
below:
Which Blu-ray and DVD titles are you hoping to pick up this week? Leave your comments in the space below!