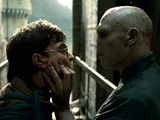 There's something for everyone on the big screen this July: ambitious arthouse from legendary filmmaker Terrence Malick, the latest bit of animated magic from Pixar and the climax to JK Rowling's epic wizard saga with
Harry Potter and the Deathly Hallows: Part 2
.
Digital Spy
has previewed five of the big films hitting cinemas this month - let us know what you think in the Facebook comments below and shout loudly if you think we've missed something out!
The Tree of Life
Release Date:
July 1 in the UK, released May 27 in the US.
Why you should see it:
Terrence Malick has directed just four movies since making his debut with the critically acclaimed
Badlands
in 1973. Every Malick picture is an event for film fans, and with the
Cannes Palme d'Or already under The Tree of Life's belt
expectations are sky high. Brad Pitt, Sean Penn and Jessica Chastain head the impressive cast for the sweeping drama, which stretches from the birth of the universe to, perhaps, the end of time.
Harry Potter and the Deathly Hallows: Part 2
Release Date:
July 15 in cinemas worldwide.
Why you should see it:
10 years. Eight movies. Billions in box office takings.
Harry Potter
is the most successful franchise in movie history and it all ends with the release of
Deathly Hallows: Part 2
on July 15. JK Rowling's saga comes to a close as Harry (
Daniel Radcliffe
), Hermione (Emma Watson) and Ron (Rupert Grint) go in search of the Horcruxes to vanquish Lord Voldemort for good. By the time the end credits roll there won't be a dry eye in the house.
Cars 2Release Date:
July 22 in the UK, released June 24 in the US.
Why you should see it:
Cars
may not be the strongest brand in the Pixar stable, but with Lightning McQueen and Mater getting dragged into a covert espionage mission this promises to deliver some high-octane thrills. Sir Michael Caine himself will provide the voice of secret agent motor Finn McMissile, while fellow Brits Emily Mortimer and Eddie Izzard also join the Pixar family. Look out for a cameo from Lewis Hamilton and a new
Toy Story short
preceding this one.
Horrible BossesRelease Date:
July 22 in the UK, July 8 in the US.
Why you should see it:
Three friends - played by Jason Bateman, Jason Sudeikis and Charlie Day - get to the end of their tether with bosses Kevin Spacey, Colin Farrell and Jennifer Aniston and hatch a plot to bump them all off. What's not to love about that premise?! The stellar cast,
witty posters
and raunchy trailers have us sold, plus the movie looks like a great opportunity for Aniston to escape from rom-com hell. Have a look at the naughty
Horrible Bosses
red band trailer below...
Captain America: The First AvengerRelease Date:
July 29 in the UK, July 22 in the US.
Why you should see it:
The month wouldn't be complete without a dose of comic book action, so arriving just in time to round out the summer is Marvel's iconic World War II superhero Captain America. Chris Evans swaps the
Fantastic Four
's Human Torch for Steve Rogers, a weakling who's rejected from the US army... only to be brought in after getting injected with a super-soldier serum! With a light-hearted, nostalgic tone from
The Rocketeer
director Joe Johnston, this could provide a welcome counterpoint to some of this summer's more serious fare.
What movies are you looking forward to seeing in July? Leave your comments below!