6
Movies News
'Harry Potter and the Chamber of Secrets': A retrospective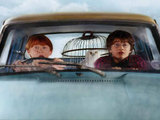 As the
Harry Potter
series draws to a close this month with the release of
Deathly Hallows: Part 2
on July 15, we're taking a look back at the previous seven movies in the series to chart the rise of JK Rowling's boy wizard.
With Harry and co having won over fans and critics alike, Chris Columbus returned to direct his second and final film in the franchise. Just three days after
Philosopher's Stone
hit cinemas, the cast and crew assembled in Surrey to begin production on
Chamber of Secrets
.
Among the new characters introduced were fan favourite Dobby the house-elf, Lucius Malfoy - brought to life by Jason Isaacs - and a new Hogwarts teacher, Defence Against The Dark Arts professor Gilderoy Lockhart - perfectly portrayed by acclaimed thespian Kenneth Branagh. Sadly, Lockhart was not to make his comeback in the film adaptation of the fifth book, leaving this as Kenneth Branagh's one and only appearance in the series.
The story focused on the dangerous going-ons at Hogwarts, which threatened to shut the school. With attacks on students, including Hermione and the newly-introduced Colin Creevy (along with his infamous camera), Harry and Ron had to figure out the truth while uncovering the secret behind the mysterious Tom Riddle's diary. Bonnie Wright took centre stage as the one and only female Weasley sibling, as Ginny's life was put in danger within the Chamber of Secrets itself. The film also produced one of the series's cheesiest scenes as Hagrid made his grand return to Hogwarts following a brief spell in Azkaban - "There's no Hogwarts without you, Hagrid!"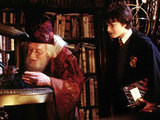 Honourable mention must also be made to Richard Harris. The Irish actor died on October 25, 2002 after suffering from Hodgkin's Lymphoma. The 72-year-old's portrayal of Albus Dumbledore in both
Philosopher's Stone
and
Chamber of Secrets
was highly praised by both fans and critics alike. Harris passed away less than two weeks before the cast and crew gathered in London for the film's world premiere.
As with the book, the film took on a noticeably darker tone as JK Rowling posed new questions, while revealing more information about the secret past of the boy wizard's nemesis. The author has since confirmed that the working title for the second instalment was
The Half-Blood Prince
, which went on to become the sixth novel. Similarities between both the book and 2009 movie adaptation are clearly noticeable.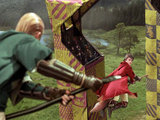 Opening on November 15, 2002, the 164-minute adventure brought more positive reviews in for both the cast and Columbus. While being described as a "phenomenal" adaptation, some critics highlighted that the director's "hat-in-hand" approach meant that the films were too long as the team tried to stick to the source material.
With huge global takings,
The Chamber of Secrets
- currently the 21st highest-grossing film of all time - left the franchise in an incredibly strong position, as Columbus handed over the directorial reins to Mexican filmmaker Alfonso Cuarón.
More Harry Potter retrospectives:
> Harry Potter and the Philosopher's Stone
Move through our
Harry Potter and the Chamber of Secrets
gallery below: